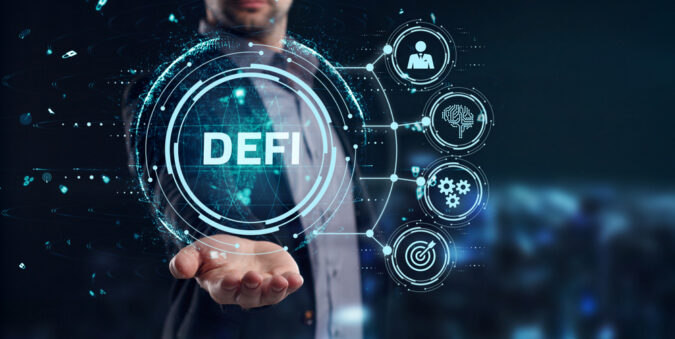 Nasdaq with the ticker Nasdaq: NDAQ revealed on Thursday that it is now in partnership with the tokenized stock trading venture built on blockchain, DeFiChain. Information from Bloomberg revealed that the exchange will now be giving price feed from its platform and other companies to DeFiChain.
The countries to join DeFiChain in delivering price feed include Tinngo and Finnhub. And the tokenized stocks offered are Tesla, Gamestop, Apple, and GameStop. The statement shared on Bloomberg mentioned that Cryptos would collateralize those assets.
The Co-founder of DeFiChain, Julian Hosp, commented in an interview that "The essence of this partnership is to open the door for numerous people sharing in the frustration of the traditional markets. For us as a community, getting them out of the frustration is our excitement."
Furthermore, this new service will use DFI, the native token of DeFiChain, alongside BTC, stable coins like USDC, and other digital assets. For the past few months, Nasdaq has been quite active in terms of establishing partnerships with new fintech.
For instance, it was reported that the exchange partnered with some private banks like Citi, SVB Financial Group, Morgan Stanley, and Goldman Sachs to establish a joint venture which will form the trading venue for the stocks of many private companies.
The Recent partnerships of Nasdaq and their Financial Results
Soon, Nasdaq will move out of its existing Nasdaq private market, where existing regulatory infrastructure, technology, and client relationships are offered to a new separate entity to establish a joint venture.
Moreover, the financial report of the exchange has revealed a great performance from these partnerships. In Q2 2021 (April – June), about a 21% increase was recorded in its net revenue. Reckoning with the figure, the total revenue has risen to $846 million.
In addition, the firm gave details of its financial records. It was mentioned that it made $104 million from organic growth, which represents 15% of its net revenue. Also, $27 million was added from the revenue generated from Verafin, which the exchange acquired in the first quarter of the year.
Also, based on the favorable changes in the foreign exchange (FX) rates, the firm gained another $16 million. Of course, the firm is popular as one of the largest stock exchanges in the United States. It is involved in other financial services as well.