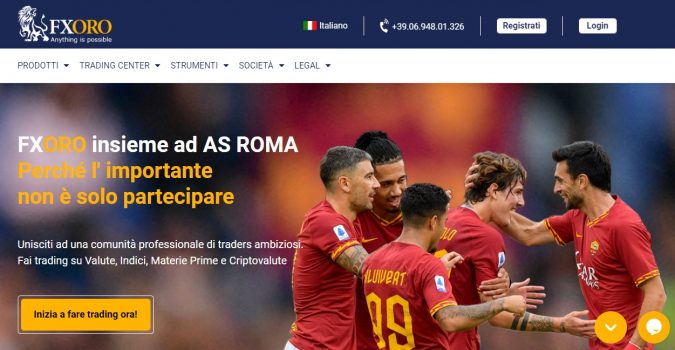 Trading in forex and CFDs have widely been on the increase in recent years. A lot of new investors are beginning to explore the window of opportunities delivered by this market. For this reason, we are starting to see a proliferation of brokerage firms professing all sorts of benefits to investors, if they trade under their platform.
FXOro Review
One brokerage firm that has shown consistency in delivering maximum satisfaction to traders on its platform is FXORO. Started in 2012, FXORO has risen to become a prominent name in the forex and cryptocurrency business. The brokerage firm has steadily built a reputation for itself, priding as a significant player in the industry.
This fact is underscored by the numerous positive reviews they get from users. The forex and crypto market is usually riddled with complaints about terrible and incompetent brokerage firms. FXOro foray into the industry was a huge game-changer. Its scrutinies have invariably yielded little or no disapproval from investors or cases of fraud allegations.
FXOro is a company that has its base in Cyprus. MCA intel funds LTD owns it, a member of the investor compensation scheme, and Its operation is completely regulated and follows all if MiFID statutes. CySEC licenses FXOro with a license number of 126/10.
The brokerage firm has shown a deep commitment to ensuring that it fully backed up by the law. This is made possible by the registering of the firm under a host of national regulators under the EEA.
Regulator agencies like the CONSOB in Italy, AMF in France, FCA in Britain, have the operations of FXOro fully sanctioned. The fact that the company is not regulated in the US, they do not accept investors based in the US, further enforcing their transparency.
What makes FXOro different from others
Every trading outfit has it's selling points. One major flaw of some brokerage firms is dishonesty. They peddle benefits they cannot offer, leading to disappointment of investors. With FXOro, what you see is what you get.
To ensure transparency and credibility, the firm leaves a caveat for its customers on its website's homepage. The caveat suggests that they do not offer investment tips or advice to their customers. However, they confidently inform its users of some of their vital strengths as a brokerage firm.
Which includes daily providing their customers with daily analysis and trading signals. Client support is an essential part of customer service, a feature which the brokerage firm effortlessly delivers.
FXOro offers a great trading platform with precise working instruments easily accessible and several to choose from. The following are some of the reasons why a lot of forex and cryptocurrency users prefer FXOro.
Seamless trading software and platforms
What are the accounts hot fluid and efficient trading software? The experience enjoyed by investors while trading on an excellent platform is second to none.
This is what you get trading on FXOro. Built on an MT4 design structure, the FXOro platform is beautifully developed to give users a tremendous adventure on their platform.
Recognizing the need for customers to relish a worthwhile experience on their platform, FXOro adopted the MT4 trading platform. It is highly secured and possesses remarkable charting instruments and several relevant drawing tools.
The MT4 supports auto trading based on already installed technical indicators that enable expert advisors. It also allows for quick trading of the chart, with a variety of language options. Customers can download the FXOro platform on its website at no extra cost. It is safe, secure, and fast.
For customers who are on the go, FXOro has created a web trader MT4 mobile app. It can be downloaded on both the Apple store and the Android play store, depending on the user's phone.
Types of accounts
There are there different types of accounts on FXOro.  Each of these accounts is based around a spread. A spread is the price difference between where a trader purchases or sell an underlying asset. The accounts are the fixed spread account, the variable spread account, and the ECN account.
Fixed spread accounts
With this account, the spread remains consistently fixed at all times. This helps to curb market volatility at all times, thereby reducing any associated risk factors.
With a spread starting at two pips, users are expected to be able to use their margins at a leverage of 1:400. This account does not support additional commissions, and it has a minimum deposit of $200.
Floating spread accounts
Unlike the fixed spread account, the floating spread account indicates market volatility. Depending on market conditions, the spread can fall to as low 0.3 pips on some traded assets. Spreads on this account start at 1.2 pip.
The floating spread account has a minimum deposit of $1000, with leverage diminishing to a maximum of 1:200. Just like the fixed account, it has no additional commissions added to the account.  The margin stops out level also shift to 25%.
The ECN accounts 
This account is targeted at investors with enormous monetary strength. A Commissions  $6 per lot is charged on this account. Spread on this account starts at 0 pip with margin stop out levels moving to at least 50%.
The maximum attainable leverage for the ECN account is pegged at 1:100. A minimum deposit of $5000 is required to trade on the ECN account.
As an added feature, all accounts have an Islamic version that enables customers who do not want to pay or receive interest rates overnight.
Demo accounts
A characteristic feature of most brokerage firms in the forex and cryptocurrency is the availability of demo accounts. The FXOro platform does not highlight any demo account feature, which might sometimes be needless.
Cost of trades
The cost of trade on FXOro is very competitive.  As stated earlier, there is no extra trading cost on the various accounts on the FXOro platform except the ECN accounts that charges $6, a quite conservative amount.
Swap fees are paid or received for holding trades overnight. For holders with the Islamic account, fees are not collected, but instead converted to an administrative charge of comparable value and paid into the account.
Furthermore, if you have not traded on the account for at least three straight months, then your account is likely to attract a 25 base currency charge until a trade is affected or deposit reaches zero.
Methods of deposits and cost
One unique feature that sets FXOro apart from others in the industry is its decent method of making deposits and competitive costs. There are several ways deposits can be made on the FXOro platform.
They include the use of Master Card, Visa card, debit, and credit card. Customers can also use the bank wire transfer option, using e-wallets such as Wire2pay, Nettellar, and Skrill. Interestingly, all these transactions come at no extra cost, as FXOro covers all the transaction costs.
Each payment method comes with different currency options; hence it is essential to note the payment method favors the method of deposit.
Methods of Withdrawal and cost
Withdrawal on FXOro is not only fast but is similar to ways you can deposit funds. However, withdrawals on the platform attract a charge. For debit and credit cardholders, withdrawals using this method comes with a few of 5 base currency. Same with Skrill users, while  Neteller attracts a 15 base currency.
To process withdrawals on FXORO, take up to 48hours for credit and debit cardholders. Bank transfers using e-wallets take up to 10 days.
Promotion and Bonuses 
Bonuses are part of marketing strategies to encourage investors to continue to he and patronize a service. FXOro offers exciting rewards to customers who make use of the referral forms.
The referral friends form contains the name first name, last name, telephone number, email address, and country of the referred person's details, And a deposit between  $300 and $1000 can claim a $100 reward.
Deposit above $1000 and less than $2500 can get a prize of $200. Similarly, deposits between $2501 and $10,000 can also get a bonus of $350. Lastly, deposits of over $10000 get a handsome bonus of $500.
Leverage
Leverage is used in the forex industry to profit from fluctuations in exchange rates between two countries. Leverage on the FXoro platform depends on the account you are using, while the fixed account has a leverage point of 1:400, the floating account has a maximum leverage level of on1:200. The maximum leverage of the ECN account is 1:100.
Spreads
Spreads are usually measured in pips. For most currencies, one pair is equal to 0.0001. As with leverage spreads are also determined based on the type of account the investor is using. For the fixed account, the spread starts at 2 pips, which is the minimum pip value obtained under this account.
This is very evident in major pairs such as the EUR/USD. The minor and exotic pairs see the value shift to upward levels as 4pips. The AUD/USD market interactions reveal this movement. It is interesting to note that the spread does not change regardless of market volatility.
For the floating account, spread opens at 1.2 pips. Unlike the fixed account, the floating spreads move with market volatility, meaning pips can react to market changes but cannot fall below the minimum value of 1.2 pips. Minimum spreads for AUD/JPY reaches as high as 2.6 pairs, while the minimum value for EUR/USD is 1.2 pips.
The ECN accounts have a much less spread, as a result of the added commissions. Unfortunately added commissions do not bring about, many dips in the spread. The ECN account for FXoro users is at an average of about 0.6 pips.
Outstanding educational  trading
There are a number of trading tools on the FXORO platform that are very educative and beneficial to the trader. Some of the tools include the market updates, MQL and Authorchart list, and News and Updates, ebooks, webinars, and individual trading sessions.
Users can monitor numerous financial tools in a 24-hour cycle, allowing them to execute deals as they occur. The Author chart list, one of the most refined technologies available on the market, can be used to detect and supply the identification of charts and patterns.
User users on the FXORO platform can also get in-depth courses on how to use the different trading platforms and techniques analysis. For new entrants in the market, the ebook is targeted at them to fully grasp the basics of the intricacies of the market to enable them to become professionals.
Markets
Fxoro offers four financial instruments. They are divided into four major sections.
( I) CFDS ( Contract.for Difference): These are derivatives trading products available on indices such as the DOW, NASDAQ, FTSE 100, Jones, etc. Commodities and metals traded here include Brent crude, oil, sugar, soya beans, corn, natural gas, etc.
 (ii) forex: Major, minor and exotic currency traded here include the pound against the dollar, euro against the dollar, etc.
( iii) Stocks: A host of notable companies have their shares traded on this platform. They include Microsoft, Apple, Chevron, Lufthansa, Citigroup,  Twitter, Facebook, Google,  Coca-cola, Netflix, Exon mobile, etc.
Security
One primary concern for traders in the Forex and cryptocurrency market is how safe the trading platform is. As a result, many brokerage firms are setting up a secured platform for traders. FXOro has subjected its operation to a series of intense scrutiny, making them highly regulated.
Investors are rested assured of a trading experience filled with the peace of mind. FXOro is CYSEC compliant, and also it's operations are also covered by the Investor and Compensation, thereby reinforcing its safe and secure status.
Other regulatory agencies that ensure the protection and safety of funds in FXOro includes, AMF, CMNV, CONSOB, BaFin, FCA.
Customer Service 
Customer response is a crucial determinant of how effective a brokerage firm would be. Investors' confidence is improved when their questions and queries are responded to in record time.
FXORO has put in place some ways investors can get answers to their questions on the platform. One such method is filling up the online support form to get a response to questions.
This is one of the quickest ways to get in touch with customer support representatives.  Queries are responded to via emails or phone calls. Other sectors can also be contacted through emails for issues such as support, complaints, partnership, etc.
The customer support of FXORO is available through their offices in the UK and Cyprus offices. Some of the email used by FXOro customer support includes complaints@FXoro.com, partnership@FXoro.com, and info@FXoro.com.
Global Reach
FXOro can be accessed in almost all parts of the world except in the USA, Canada, and  Iran. Aside from these countries listed, FXOro has an extensive global spread, and a lot of investors can enjoy the immense benefits the platform offers.
FXOro customer service provides support for potential investors who are not sure of their country's eligibility status on the FXOro platform.
Regulation: CySEC
Pairs offered:  Major, minor and exotic
Maximum leverage: 1:500
Minimum deposit: $200
Markets:  Commodities, shares forex, indices.
Deposits: Nettellar, Master card, Visa card, Skrill, wire transfer, Direct debit.
Number of tradable assets: Over 250 financial instruments.
From the reviews, it is evident that  FXOro has more than just enough to be regarded as the best in the industry. For many investors in the forex and cryptocurrency industry, FXORO delivers immense benefits for investors.
The platform built on a reliable Meta trader 4, web trader, and mobile. FXOro is a brokerage firm that ticks all the right boxes and is fully regulated by agencies in the European Union. Funds are well protected against, and investor's rs account is insulated against hackers and cyber fraudsters.
The different methods of withdrawals and deposits of funds make it very convenient for the investor. The educational tools of the PXORO platforms are quite insightful for both new and experienced investors.
The three basic account types have Islamic variants for investors who do not want to receive or pay interest overnight. With over 250 financial instruments, FXORO cuts above most of its adversaries in the industry. 
The fully licensed Cyprus investment outfit is a significant player in the forex and CFD market, with well-trained staff to meet clients' needs and support. FXoro guarantees absolute peace of mind and security to its users.
The margins on its platform are well protected and adequately shielded from negative balance scenarios. Trading on the FXOro has provided a more visionary, creative, and cutting edge approach to trading. On a general outlook, the pros of using the FXOro platform far outweigh its cons which are almost non-existent.
With a catchy motto that says anything is possible, the FXOro brand has created a platform where clients enjoy genuine and endless possibilities of trading. Traders can now maximize trading activity at every step of the way.
Conclusion
Trading is now a whole new worthwhile experience on the platform of FXoro. As a rule of thumb, we advice traders to ensure that they have a reasonable understanding of how a variety of financial instruments are traded in the financial market before you begin trading or better still, invest with the minimum deposit amount and gradually increase your investment overtime.
Service Review Summary
Reviewer
Review Date
Reviewed Service
Author Rating