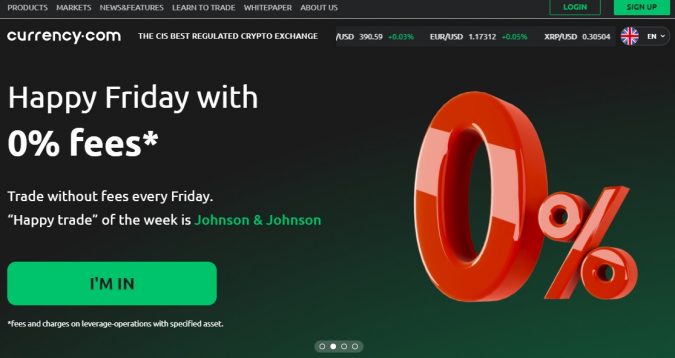 Currency.com Review
While cryptocurrencies have come a long way since 2009, there are still challenges that cryptocurrency investors have to face these days. They are still quite volatile and remain unregulated due to which people have to deal with lack of access to regulated markets. If they want to trade in other financial markets, they usually have to sell their crypto holdings and get fiat currency for doing so. Therefore, they are unable to trade in other liquid markets, such as stocks, commodities, indices and more. If that's frustrating for you, then you should take a look at Currency.com.
This platform has been designed for investors holding Bitcoin, Ethereum and Litecoin who want to trade financial assets like indices, commodities and shares of some of the largest companies. With Currency.com, it is possible for them to do so without converting their crypto into fiat. You can trade in crypto and even receive your profits in crypto through this regulated tokenized securities trading platform.
Available Markets at Currency.com
Currency.com provides its clients access to a broad range of financial instruments as there are more than 1,300 tokenized securities. Traders can take advantage of them for leverage their crypto holdings in traditional markets. You can trade tokenized indices, which include some very popular ones US500, EU50, CN50, US30, S&P500, IT40, US100 and lots more. The exchange has also added tokenized shares and these include shares of some of the top companies in the world like Uber, Fiverr, Visa, Netflix, Apple, Tesla, AT&T, NVIDIA and Slack Technologies.
There are also a ton of tokenized commodities that Currency.com is offering on its platform like gold, silver, crude oil, natural gas, platinum, palladium and so on. Government bonds are also available for trading on the exchange, but currently only Belarusian government bonds are available on the platform.
Registering at Currency.com
The registration process at Currency.com is quite straightforward. But, you should note that since the exchange is regulated by the High Tech Park of Belarus and audited by one of the 'big four' companies, it has to comply with a KYC (Know Your Customer) policy and an AML (Anti-Money Laundering) policy. This requires traders to submit some documentations for confirming and verifying their identity and address before being able to use the exchange's services. The form-filling process is also easy to follow and you just need to verify your email.
Banking at Currency.com
When you want to add funds to your account at Currency.com, you have the option of choosing between fiat and cryptocurrencies. You can make use of your bank account to make a wire transfer or you can also opt for your credit card, whether it is a Visa or MasterCard, for doing so. The exchange supports both methods for doing so and deposits are done free of costs. The withdrawals, on the other hand, have some fee associated with them, but this depends on what banking method you are using. Moreover, the exchange has also made it a priority to perform the process as quickly as possible.
Margin Trading at Currency.com
A great benefit of using Currency.com is that it offers margin trading capabilities to its clients. People have the option of trading cryptocurrencies, along with traditional financial instruments with leverage of about 100x for certain pairs. The cryptocurrencies that can be traded on the exchange are Bitcoin, Litecoin and Ethereum. These can be traded against the Russian Ruble (RUB), Euro (EUR), Belarusian Ruble (BYN) and the US Dollar (USD). It is also possible to trade them against one another.
It is important to note that the leverage varies for the different assets offered by Currency.com. For cryptocurrencies, it usually offers 10x leverage because these are already quite volatile. For tokenized stocks, tokenized indices and tokenized commodities, the leverage is 20x, 100x and 100x, respectively.
Exchange Security at Currency.com
One of the highlights of the Currency.com's platform is their security. Thus far, there is no history of any breaches when it comes to the exchange and it is said to be using the technology provided by its partner, Capital.com. The company's servers are kept in the LD4 data centers that are used by some of the leading trading platforms in the world like Nasdaq, Dow Jones and the London Stock Exchange. Some of the other security measures that the exchange has implemented include using HTTPS for encrypting all communications.
Currency.com also keeps 97% of all user funds in a cold wallet. It is regulated by three different institutions and is in compliance with AML and KYC policies. There is a high level of virtual and physical security and there is also a powerful and robust order matching engine that's capable of handling about 50 operations in a second. They also have a very professional staff that makes use of military-grade encryption for storing and protecting the private data of the clients to prevent it from being stolen. In addition, it also has audited secure smart contracts for issuance and management of tokens.
Customer Support at Currency.com
Another of the plus that people will find at Currency.com is their strong customer support. They can be reached round the clock through a variety of support channels and you can choose one as per your ease and convenience. There is email support available and you can find the address on their website. You can also get in touch with them on the phone number mentioned on the website.
Apart from these options, you can use social platforms for reaching out to their agents like WhatsApp, Facebook messenger, Telegram and Viber. Last, but not the least, there is also the option of using live chat for any immediate assistance that you need. Currency.com has also created an FAQ section for the knowledge and ease of their clients where answers are provided to questions that are often asked by customers.
Final Thoughts
Having a well-designed and intuitive trading platform accessible via desktop and mobile app, Currency.com is an innovative solution for those who want to enjoy hassle-free crypto trading.
Service Review Summary
Reviewer
Review Date
Reviewed Service
Author Rating