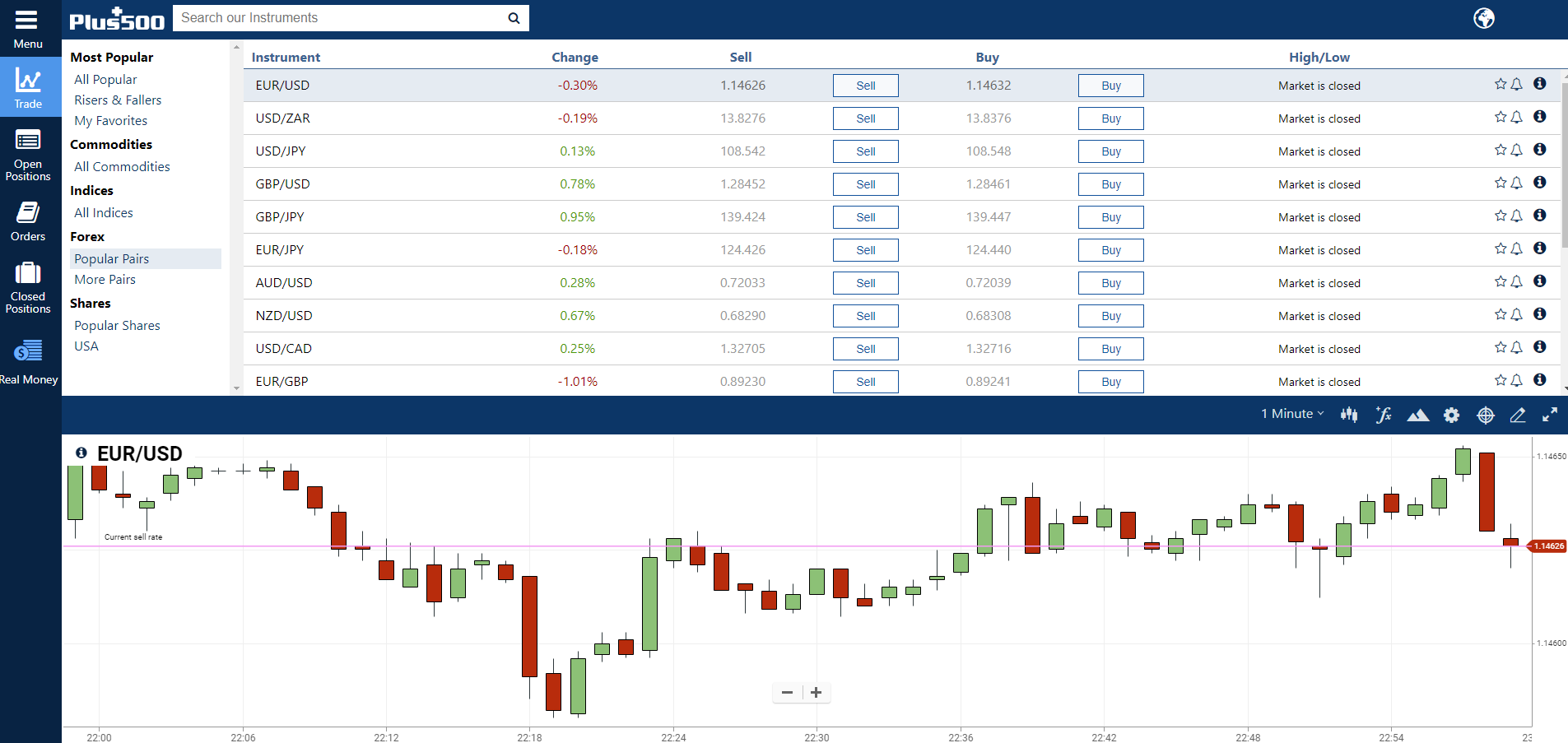 Plus500 Review
If you are looking for trading facilities for cryptocurrencies, commodities, forex, indices, shares, options and ETFs, you will find Plus500 to be an excellent option. This trading platform is provided by Plus500UK Ltd and it has become an industry leader as it offers Contacts for Difference (CFDs) and all instruments available on it are leveraged. Other than that, the company has also taken a number of steps to provide a seamless user experience to traders and ensures the security of their funds. In addition, Plus500 is offering traders the option of trading more than 200 instruments, which has greatly enhanced its appeal.
ROBOT

RATING

PROPERTIES

TRADE

✮✮✮✮✮

Top Rated Robot

✔

90%

[Claimed]

Win-rate

✔$250 Deposit

✔Accepts Credit Card

 Trade NowRead Review
Regulators
Based in the United Kingdom, the offices of Plus500 are located in London due to which Plus500UK Ltd is regulated and authorized by the Financial Conduct Authority (FCA). The company is registered in Wales and England and it is itself a subsidiary of Plus500 Ltd. It has its headquarters in Haifa and is listed on the London Stock Exchange's Main Market for Listed Companies. Apart from being regulated in the UK, this trading platform is also regulated by other agencies around the world. This includes the Cyprus Securities and Exchange Commission (CySec) and in Australia by the Australian Securities and Investments Commission.
Israel and Singapore are some other countries where Plus500 is regulated. When you use a regulated company for your trading needs, it is a given that it is a reliable and reputable platform as they have to comply with stringent rules and regulations.
Availability
You can use Plus500 in more than 50 countries around the world. In addition, it is possible for traders to use the platform in more than 30 languages, which gives traders the option of learning and trading in their native language.
History
Plus500 was founded in 2008 and it has achieved a number of milestones over the years. It launched its online trading platform in the year of its launch and it was designed for desktop PCs. It started offering CFDs on shares in 2009 without any commissions. The next year, Plus500 launched the web-based version of its trading platform and this enabled traders using Mac, Linux or smartphones to trade online. In the same year, it also expanded its trading portfolio to include ETFs.
By 2011, the number of transactions conducted on Plus500 on a monthly basis had reached 2 million. This was the year when the platform launched an app for iPhones and iPad to provide clients with full control on the go. Soon after, Plus500 became the highest-rated CFD trading app on Apple's App Store. The year wasn't over for Plus500 just yet as it expanded its international portfolio even more by adding more than 1,000 stocks from worldwide markets. In 2012, the Plus500 Group introduced the Android smartphone and tablet application and this is also when it established the aim of becoming the global leader in CFD trading companies. The Plus500 Group went public in 2013 in the AIM section of the London Stock Exchange. It also made history in the same year when it introduced the first Bitcoin CFD in the world.
The market valuation of Plus500 in the AIM section reached $1 billion on February 26th, 2014. The platform also introduced its Guaranteed Stop facility in 2014. Next year, the company added a Windows mobile application and became a sponsor for Spanish champions, Atletico de Madrid football club. The rollover functionality was introduced in 2016, along with CFDs for options and also the Web Trader, which is compatible with both desktop and mobile devices. A sponsorship deal was made by Plus500 Group in 2017 with the 'Plus500 Brumbies', the 2017 Super Australian Conference Champions.
In 2018, the ordinary shares of Plus500 Ltd were listed for trading on the London Stock Exchange and it also joined the UK FTSE 250 Index.
Trading Instruments
Plus500 supports trading of CFDs and forex, including cryptocurrencies, commodities, indices, ETFs, shares and indices. In total, you can find more than 2,000 trading instruments on this trading platform. You can find the full list under the Trading Instruments option and it includes 65 forex currency pairs, 10 cryptocurrencies, 81 ETFs, 20 commodities and 27 indices. As for options, they are classified into popular options along with 23 other categories. The cryptocurrency pairs that are supported on Plus500 include BTC/USD, NEO/USD, LTC/USD, ETH/BTC, IOT/USD, BCH/USD, XRP/USD, XMR/USD, EOS/USD and ETH/USD. You can find support for pairs involving Ehtereum, Bitcoin, Ripple, Bitcoin Cash, Monero, IOTA, EOS, Litecoin and NEO.
Margin Trading
Traders need to understand margin calculations because margin trading is a part of Plus500. It should be noted that the margin requirements, both for initial as well as maintenance margin levels, are different for every instrument. You can find simple instructions for margin calculations in the FAQ section provided by Plus500.
Demo Accounts
You can find a demo account on Plus500, which is completely risk free because you cannot lose any money when you are using this account. You can sign up for a demo account free of cost and the option can be chosen when you are registering yourself on Plus500. The only difference between a demo account and a real account is that you are not using any real money. Other than that, everything else is identical, starting from platform setup to the market conditions. To help traders in getting a feel for the platform and understand how to trade cryptocurrencies, forex etc., the initial amount is automatically reinstated by Plus500 if the balance is less than 200 EUR or its equivalent.
One of the features that sets Plus500 apart from its competitors is that it doesn't have a time limit imposed on the demo account. Also, it is incredibly convenient to switch between your real money and demo accounts. This gives you the opportunity of honing your skills on more complicated strategies or trades in the demo account while investing actual money in the real account.
Account Types
It is recommended that only a single trading account be opened on Plus500 at one time and the company can close any other accounts. However, every case is individually accessed and even if multiple accounts are allowed, it is not possible to transfer funds between them and they will operate independently. Plus500 only offers individual trading accounts and corporate company accounts are not available.
Account Verification
Account verification is an essential step on Plus500 for security and identification purposes. This includes verifying your name, date of birth, phone number, email address, address and payment method. Your phone number is verified through a code sent via SMS or a call made to you. As for proof of identity and proof of address, Plus500 requires you to provide some necessary documentation. Your funding source also needs to be verified. Proof of identity can be provided via your ID card, passport or any other government-issued document with your name, date of birth and other personal details.
For proof of address, you need to submit a document such as a utility bill that shows your name as well as address. Bank statements, credit card statements and tax letters can also be submitted.
Payment Methods
Depending on the payment method you choose to use with Plus500, you may have to provide some additional verification to ensure the method in question carries your name. If you choose to use your debit or credit card for making a deposit, you may have to upload a photo or scan of your card, your credit card statement or a document from your bank. If you are going with bank transfer, you may have to provide a bank statement or upload a scan or photo of proof of payment. For PayPal or Skrill, online verification may be done immediately or take a few business days.
Deposits
In most cases, no deposit fee is charged by Plus500 for payment processing and there are rare situations when you incur a fee when transferring money into and out of your account. This is also due to your payment issuer or bank and not because of Plus500. These situations usually occur when you an international credit card is used and a foreign acquirer processes the transaction. The only deposit fee that will be directly charged by Plus500 would be when you exceed the maximum monthly withdrawal limit.
Fees
Most of the services provided by Plus500 don't involve any fees or commission of any sort. Zero fee is charged for deposits, live share CFD prices, rolling positions, opening or closing trades, real-time forex quotes and dynamic graphs and charts. Instead, Plus500 makes its money from the ask and bid spreads. Even then, you will some of the tightest spreads in the industry being offered by Plus500. You can log into your account for viewing the Plus500 spreads and searching for the instruments you are interested in.
Some additional fee may be charged in some cases by Plus500 and this all depends on the trading activity. Overnight funding involves fees and the amount is added or subtracted to the account when a position is held for more than a certain time. If you decide to minimize your risks with a guaranteed stop, then the spread will be wider than your typical order. Moreover, an inactivity fee of $10 is charged by Plus500 for those who don't log into their accounts on the trading platform for three months.
Risk Management Tools
Since trading is quite risky, Plus500 provides its clients with a range of risk management tools in order to minimize it as much as possible. You can find Stop Loss and Close at Profit order, which can be used when opening new positions or changing existing ones. This allows traders to decide at what rate their position will close, which can minimize your loss and protect your profit, but there is some slippage if there is a sudden rise and fall in the market. Another similar tool is guaranteed stops, but this places an absolute limit on your potential losses and there is no slippage.
However, this tool is only available for certain assets. A Trailing Stop is another option to explore that allows you to lock in your profits. Your order can stay open with Trailing Stop as long as the price of the instrument is in your favor and the order will close automatically when the direction of the price changes and crosses the number of pips you have specified.
Safety
Extra measures are taken by Plus500 for protecting client funds. As per the money rules of the Financial Conduct Authority, client funds are kept segregated. Also, Plus500UK Ltd uses its own money for hedging purposes and doesn't use client money for initiating speculative positions. The fact that Plus500 is regulated by the FCA is also useful because this means client funds are protected by Financial Services Compensation Scheme (FCSA). In the unlikely event that Plus500 ceases to trade, clients will be able to get some of their investment back.
Customer Support
There is 24/7 customer support available via chat and email in most jurisdictions where Plus500 is available. Answers to common questions can be found in the FAQ section, which has different categories and a search bar to make it easier to find answers. Some categories include Account Verification Process, Opening an Account, Fees and Charges, Deposits, Financial Instruments, Withdrawals, Submitting Financial Documents, Regulators and Trading amongst others. Videos are also shown in FAQ answers to make them easy to understand. You can get in touch with customer support if you don't find your answer in the FAQ section and will receive a professional and prompt response.
Conclusion
Plus500 has offices in London and is a regulated broker than offers almost 2,000 instruments for trading. You can choose to trade via your browser or mobile app. The platform is also quite straightforward and well-designed and provides customer support round the clock. It is available in numerous countries and supports various languages, which appeals to the masses. The demo accounts are also a plus and there are no hidden fees or commissions involved with Plus500.
ROBOT

RATING

PROPERTIES

TRADE

✮✮✮✮✮

Top Rated Robot

✔

90%

[Claimed]

Win-rate

✔$250 Deposit

✔Accepts Credit Card

 Trade NowRead Review
Service Review Summary
Reviewer
Review Date
Reviewed Service
Author Rating