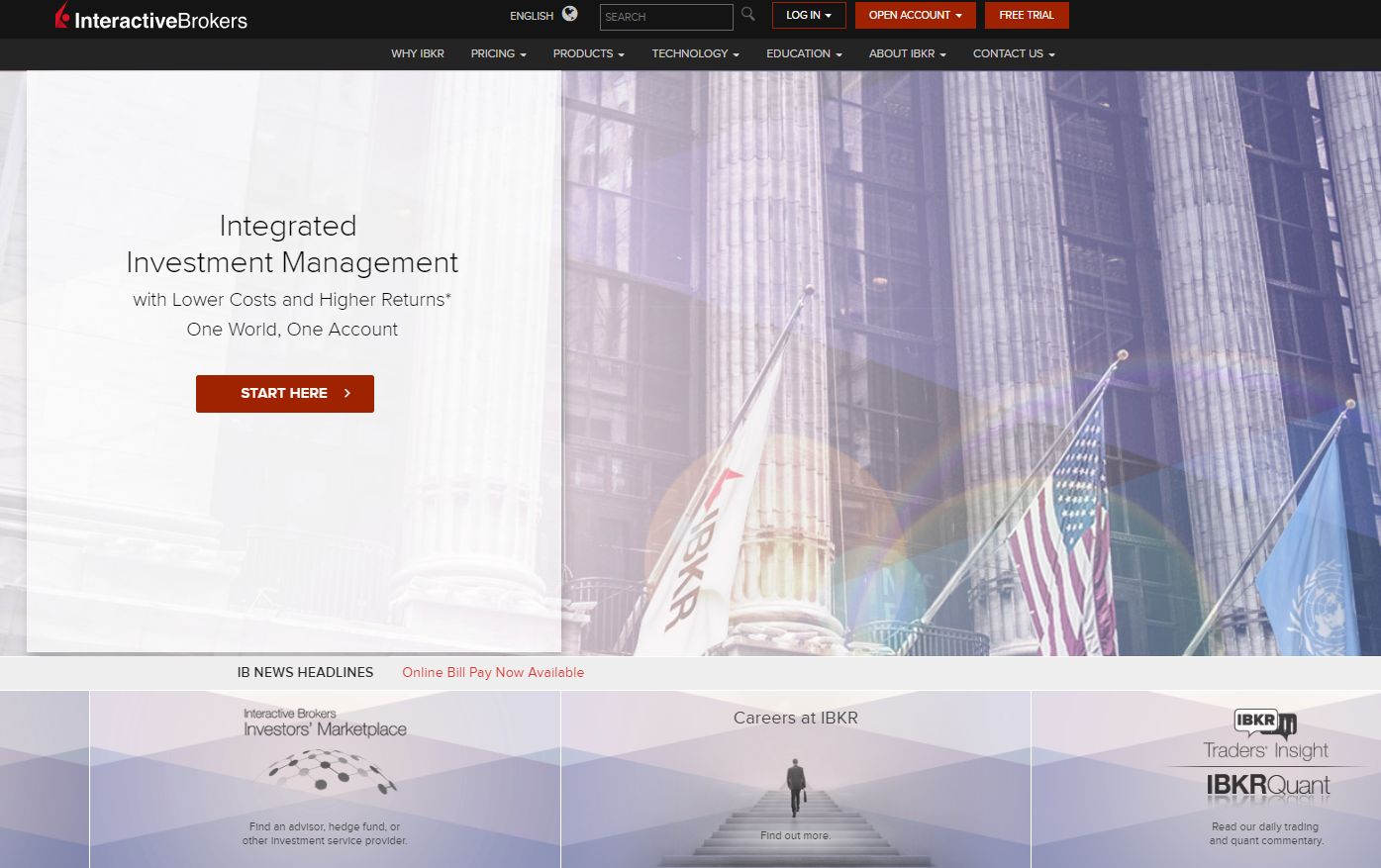 Interactive Brokers Review
40 years ago, in 1977, Thomas Peterffy decided to launch his own brokerage company. The result was Interactive Brokers Group, Inc. one of the best-performing broker-dealers today.
Interactive Brokers Group Inc has earned over $6 billion in equity capital since its foundation. Having started with a single office in the U.S., it now operates in over 120 markets scattered all over the world. Its good performance and reputation have also seen it rank as an investment-grade company under standard & poor rates. It has offices in the UK, Hong Kong, Switzerland, Canada, Russia, India, Hungary, Japan, Estonia, and China. It is based in Greenwich, Connecticut and is regulated by several bodies including the NYSE, SEC, FCA, and FINRA.
ROBOT

RATING

PROPERTIES

TRADE

✮✮✮✮✮

Top Rated Robot

✔

90%

[Claimed]

Win-rate

✔$250 Deposit

✔Accepts Credit Card

 Trade NowRead Review
These are just some of the reasons why you should really consider investing and trading with Interactive Brokers. Here is a complete review of the broker-dealer to give you a complete picture of what to expect.
What Does Interactive Brokers Do?
Interactive Broker is a broker-dealer that also doubles up as an integrated investment management firm. Its clients consist of individuals, firms, and institutions seeking to trade via the platform. It facilitates trading and investing via a variety of ways, all of which are lucrative. This is expounded below in its list of products and services.
Products
Interactive Brokers allows clients to trade and invest in a variety of securities. These include:
Stocks
The platform facilitates trade in thousands of stocks in over 120 markets worldwide. It gives its clients an added advantage with its set of advanced tools, algos, and advanced order types.
Options
Trading is made easier thanks to trading technology made by professionals and easy-to-use for all levels of traders.
Futures
The company has access to over 35 markets worldwide where you can trade commodities, futures, and futures options.
Spot Forex
With 22 listed currencies, the company facilitates trading in the biggest financial market with transparent commissions – no markups and hidden spreads.
Metals
Get access to the London bullion market with the IB Spot Gold and IB Spot Silver. The bullion market facilitates trading gold and silver over-the-counter, making it incredibly convenient.
Bonds
The company gives you access to notes and bonds, treasury bills, municipal bonds from over 1.4 billion U.S. municipal issues, and corporate bonds from over 225,000 companies. Interactive Brokers sources its bonds from numerous vendors, making them cheaper thanks to its low commissions and enabling fixed income.
Exchange Traded Funds
Exchange traded funds make it possible to diversify a mutual fund with the ease and flexibility of stocks.
Mutual Funds
The company offers over 10,000 mutual funds solicited from more than 200 fund families. Its policies are low-cost and direct.
Contract for Difference
You can trade the difference between current and future prices over the counter electronically.
Exchange for Physical
Interactive Brokers allows you to exchange for physical, hence increasing your cash flow and leverage.
Hedge Fund Investing
IB has an online hedge fund marketplace which is a part of the larger Investors' Marketplace. It allows qualified purchasers and accredited investors to browse independent hedge funds as long as they are compliant with SEC rules.
IB Asset Management
IB uses a range of trading tools and smart beta portfolios to combine passive ETF low-cost automation with actively managed fund stock selection techniques. The result is broader market exposure and higher returns.
Services
Interactive Brokers offers a wide range of services designed for the convenience of its clients. They include:
Account Management System
Interactive Brokers has an account management system that allows clients to manage and configure their account on one site. Some of the accounts feature available include access to reporting, funding, security, account configuration, and account services. Clients can also access the customer care department easily and directly from the site.
Securities Financing
IB ensures that it is always available and transparent. It offers a range of tools to make it possible for clients to short shares in real time. These tools include the Short Stock Availability Tool, Shortable shares Column, Rebate Rate Column, and Free Rate Column.
Funding Reference
IB facilitates deposits, withdrawals, and internal funds transfer through a fast, private, and secure system. The company offers two options for deposits: actual money transfers and deposit notifications. Interactive Brokers also grants all clients free monthly withdrawals, just once every month – extra withdrawals are charged for processing, clearance, and regulation purposes. The company also allows clients to make internal transfers on available cash – cash that is on hold cannot be transferred.
Tax Information and Reporting
IB also helps clients to comply with tax returns laws by providing the necessary tax information depending on the client's country of residence as well as composing the return reports themselves.
Investors' Marketplace
The Investors' Marketplace is a platform where thousands of investors, traders, third-party service providers, and institutions meet to do business. The market has 602 investment services, 308 research services, 427 technology services, 199 administrative services, and 33 business development services.
Mentoring and Learning – Interactive Brokers' Helping Hand
The finance market is a volatile and risky one. Everyone starts out as an amateur, and it takes lots of learning and practice to master the market. Interactive Brokers realizes this, and they go all the way to ensure that clients have all the resources they need to master the market. Clients can increase their knowledge through two platforms:
Traders' University
The traders' university portal is stocked with educative resources designed to increase clients knowledge in diverse areas of trading. There are five options:
Traders' Academy
Traders' academy is designed for investors, financial professionals, students, and educators. Its purpose is to increase these individuals understanding of the financial markets. Lessons are delivered in diverse mediums including theoretical lessons, quizzes, videos, and notes.
Webinars
IB also hosts free webinars delivered by financial professionals in diverse niches of the market. Clients can follow the lessons online and interact with the instructors in real time. The webinars are also recorded and stored for free access in the future.
IB Short Videos, Courses, and Tours
IB has a vast platform that requires a bit of getting used to. To get new clients up to date, the platform has developed short videos, courses, and tours of the platform. These tours and tutorials are easy to follow and understand and they cover virtually everything, from the simple to the complex. Clients can expand their knowledge of the trader workstation, account management, and trading tools this way.
Apps, Tools, and Widgets
Trading is made simple with Interactive Brokers thanks to its commitment to technological advancement. It has a variety of apps, tools, and widgets designed to increase ease of use and as well as quick access. Its apps are designed for different uses including trade, strategizing, calendar, and options, among others.
Traders' Glossary
Clients can also access the traders' glossary to learn more about developments on the platform.
IB Experts Community
IB also brings its clients together under several portals, thus facilitating the exchange of ideas. Smart traders even get mentors through these portals!
Traders' Insight
It helps to know what other (preferably smarter) traders think about the market. Traders' Insight makes this possible by connecting market participants under one platform where they can share commentaries. Commentaries are limited to professionals and span diverse topics including Options, Forex, Stocks, Lending, Macro, Futures, and Fixed Income, among others. There are nearly 120 commentary contributors based in the Americas, Asia, and Europe.
IBKR Quant Blog
This blog is designed for quantitative analysts and professionals interested in programming. It has over two dozens of commentary contributors based in Europe, the Americas, and Asia. Discussion topics include blockchain, artificial intelligence, deep learning and programming languages such as R and Python, among others.
Market Pulse
As mentioned, it pays to know what is going on in the markets. Market Pulse provides traders with snapshots of data ranging from various markets including forex, options, and ETFs, among others. Data presented includes volatilities, volumes, gainers & losers, bid/ask yield, and bid/ask price, among others. This data goes a long way in aiding traders in decision-making.
Connect with IBKR
IBKR is also welcome to anyone who may want to connect with the platform on its social media and blog platforms. It is available on social media sites including Facebook, Twitter, LinkedIn, and YouTube, among others.
Members can easily interact on these platforms and present inquiries to the broker at any time.
So, Why Invest with Interactive Brokers?
There are more straight-forward points as to why any trader would choose Interactive Brokers over other brokers. They range from affordability to reliability:
Low Costs and High Revenues
IB believes in transparency, and its vast portfolio makes it capable of offering lower commissions and financing rates when compared to other brokers. This, consequently, makes it easy to generate higher returns on investments as well as high interests on balances since the broker pays interests on any idle balances. And, since the broker conducts all its clients' affairs itself, it ensures that it gets the best price execution, thus saving you more money and increasing returns.
Integrated Investment Management
Interactive Brokers allows you to earn, borrow, spend, and invest in markets all over the world from one portal. It has links to markets and institutions all over the world and is accredited by all major authorities. It also gives clients the option of borrowing depending on certain factors it has borrowing rates as low as 3.41%.
Trading Technology
In such a volatile and competitive market, it pays to have an added advantage over the competition. Trading technology has broadened the horizons of success, but it takes good technology to hack it. Interactive Brokers has always been dedicated to advancing its technology, and it boasts of some of the best trading technologies today. Its technology is so robust that it supports several DARTs (Daily Average Revenue Trades) simultaneously.
Financial Strength and Stability
Many brokers have come up and faltered, leaving their clients with losses. Interactive Brokers has been around for 40 years now, and it has not only survived but thrived. It has accumulated capital assets worth over $6 billion, thus securing its place in the industry. This guarantees you not only security for your investment but also protection from large risks and losses.
Excellent Reputation
Interactive Brokers has won many awards for its excellent service provision. It was this year's winner of the Barron's 2018 Best Online Brokers, a prestigious award in the financial industry. Some of its other awards include U.S. Technology Awards 2018: HFM Technology; Fund Technology and WSL Awards 2018; and the Stockbrokers.com Annual Review 2018. All these awards elicit trust and confidence from customers, hence creating a vast and robust marketplace.
Interactive Brokers Pricing
Interactive Brokers boasts of one of the most attractive pricing systems in the market. Its commissions are low and transparent, and it has good interest rates.
The company has two pricing plans:
Fixed Rate Plans
Fixed rate plan charges a flat fee per contract or share. This fee includes commissions, regulatory charges, and exchange and third-party fees. These plans are recommended for those making large transactions and trades.
Tiered Plans
Tiered plans are a bit complex compared to the fixed rate plans. Here, the company charges low commissions which rise or fall depending on the volume. They also account for clearing, exchange, and regulatory fees.
Clients also get to enjoy kickbacks on savings in case an exchange provides a rebate.
New clients are required to open accounts with a minimum of $10,000 or an equivalent thereof for non-U.S. residents.
Conclusion
Interactive Brokers has proven itself a formidable dealer in a highly competitive and volatile market. Its strengths lie in its reliability, stability, transparency, and great customer service. With the great website attributes, one is sure of an excellent and transparent business. It's a legit and user-friendly site which puts the interests of the traders before anything else. This makes it less of a scam business. It is, therefore, an ideal dealer for any trader to work with.
Interactive Brokers LLC is a member of NYSE FINRA SIPC and is regulated in Hong Kong by the SFC and in Australia by ASIC (AFSL 245574, ARBN 091191141).
ROBOT

RATING

PROPERTIES

TRADE

✮✮✮✮✮

Top Rated Robot

✔

90%

[Claimed]

Win-rate

✔$250 Deposit

✔Accepts Credit Card

 Trade NowRead Review
Service Review Summary
Reviewer
Review Date
Reviewed Service
Author Rating