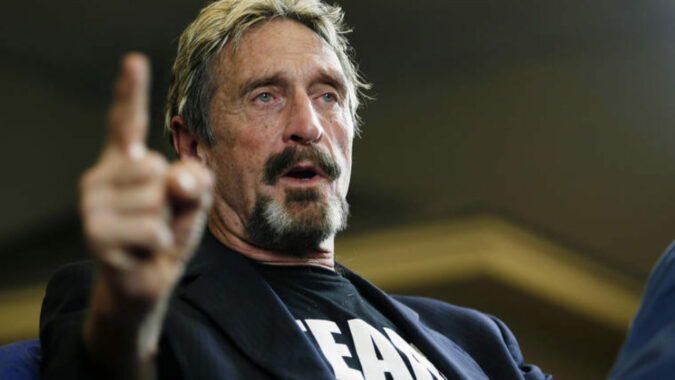 In the last communication the deceased John McAfee had before committing suicide, he said that he was financially broke as all of his wealth, including his assets, was snatched from him by the authorities in the US. Now the writer who is in the process of writing a biography of deceased McAfee also told that McAfee had nothing except for his financial difficulties when he was nearing his death. The writer also claimed that McAfee also could not afford to pay for his biography which though was his own idea.
A month has passed since John McAfee of McAfee Enterprise had committed suicide in a Spanish prison. However, more facts are coming into the picture suggesting that he was a victim of injustice caused upon him by his own people. A few days ago, before committing suicide, McAfee had a chance to communicate with the outside world. In his last statement, he claimed that he was a self-made person who earned a reputation as well as made millions. However, all was taken from him by the law enforcement agencies of the country where he spent his entire life.
But the many in the media suggested that such are the claims for obtaining public sympathies. He was a criminal and committed an act that nobody had forced him to do. While there are people who believe that he was a victim of maltreatment and mala fide on the part of law enforcement agencies. However, one thing is turning out to be very clear that he was facing financial hardships for a very long time. This very fact was even endorsed by Mark Eglinton, who is currently writing the autobiography on the deceased.
Eglinton makes a mention in the biography that by the time of 2007, McAfee's net worth was exceeding US$ 100 Million. When the worst financial crisis of human history came in 2008, his wealth went down quickly that he lost control. Resultantly, he had to sell his antivirus company to Intel and started to live in Belize for several years. He returned to the US in 2013 when he was investigated for an alleged murder in Belize.
Eglinton told dailymail.co.uk that Eglinton was handpicked by McAfree himself for covering his story in a biography. However, McAfee was so broke that he could not even pay what he had promised initially to pay for covering expenses. Eglinton said that he wanted to help but his financial situation was also not so good that he could cover the expenses himself.
There would be further revelation regarding the deceased in the biography claimed by Eglinton. He said that the deceased had acquired exorbitantly expensive properties which were though uncanny properties. At one point in time, McAfee in his lifetime told the public that he had purchased a property for US$ 25 Million in Colorado. However, the property was later sold at a cheap price of US$ 5.72 Million only in 2007.
During Eglinton's last conversation with McAfee in his prison cell, McAfee told him that the US authorities think he was hiding crypto wealth. However, there was nothing with him and in fact, all the crypto funds were utilized by Team McAfee, told deceased McAfee.