Pair Recovers Sharp from Slight Dip
There was a soft and positive bias in trading the USD/JPY currency pair in the course of the first half of the European session as the market opened for business on Friday. The pair was seen hovering in the vicinity of 124.10 and its near figures at the time of this report. It was trading just a few points beneath the recorded weekly high point.
The coming together of a number of factors aided the USD/JPY pair to recover from a dip it fell to on intraday trade and got it back to the 123.65 level. The pair later got to aim higher for the fifth day in a row on Friday. The expanding gap in the difference in interest rates between the United States of America and Japan, as well as the positive recovery experienced in global stock markets, had a weight on the Japanese yen as a safe-haven asset. Aside from that, the strong bullish position that pervades the US economy and US dollar served as a tailwind to the advantage of the price of the spot.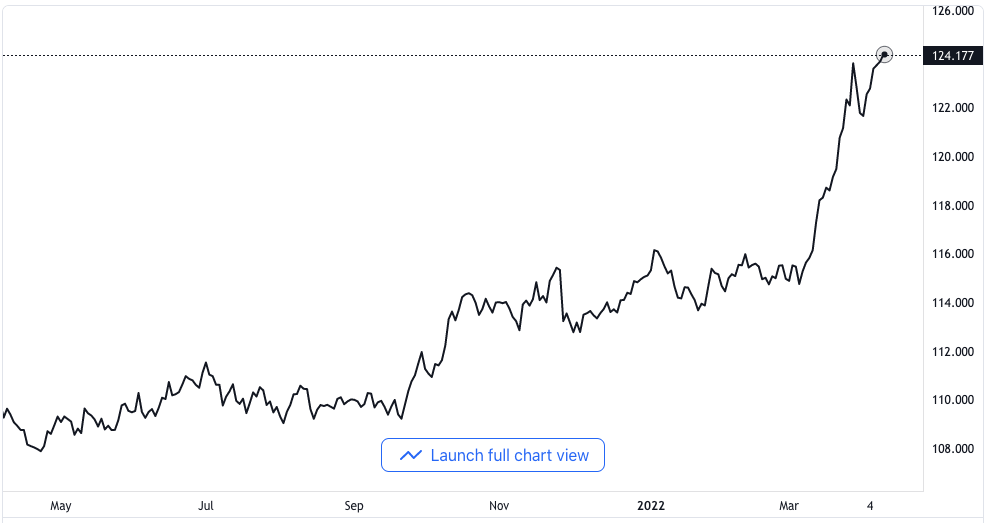 USD/JPY price chart. Source TradingView
The US dollar hit its best level for the first time since the month of May in 2020, and it keeps drawing considerable levels of support from anticipations that the Federal Reserve is going to implement a more aggressive monetary policy at a faster rate this year. Even the minute of the Federal Open Market Committee meeting, which was held on the 15th and 16th of March, got published on Wednesday. The minutes revealed that policymakers at the Federal Reserve are ready to lift the interest rates by 50 basis points during their next policy meeting in May.
Along with the fears of the rising inflation, this keeps giving tremendous support to the increased US Treasury bond yield.   
BOJ Should Continue Soft Monetary Policy
Investors are still concerned that the latest jump in the price of oil as a result of the war between Russia and Ukraine has the potential of adding more pressure on consumer inflation rates that are already high. But in spite of the worries, a board member of the bank of Japan, Asahi Noguchi, stated on Thursday that the apex bank should continue with its loose monetary policy.
Meanwhile, the Bank of Japan has consistently maintained its position of being ready to use strong tools to prevent interest rates from rising too high in the long term. It should be remembered that the Bank of Japan offered to purchase the ten-year bonds of the Japanese government in order to preserve the 0.25% yield capitalization just last week.