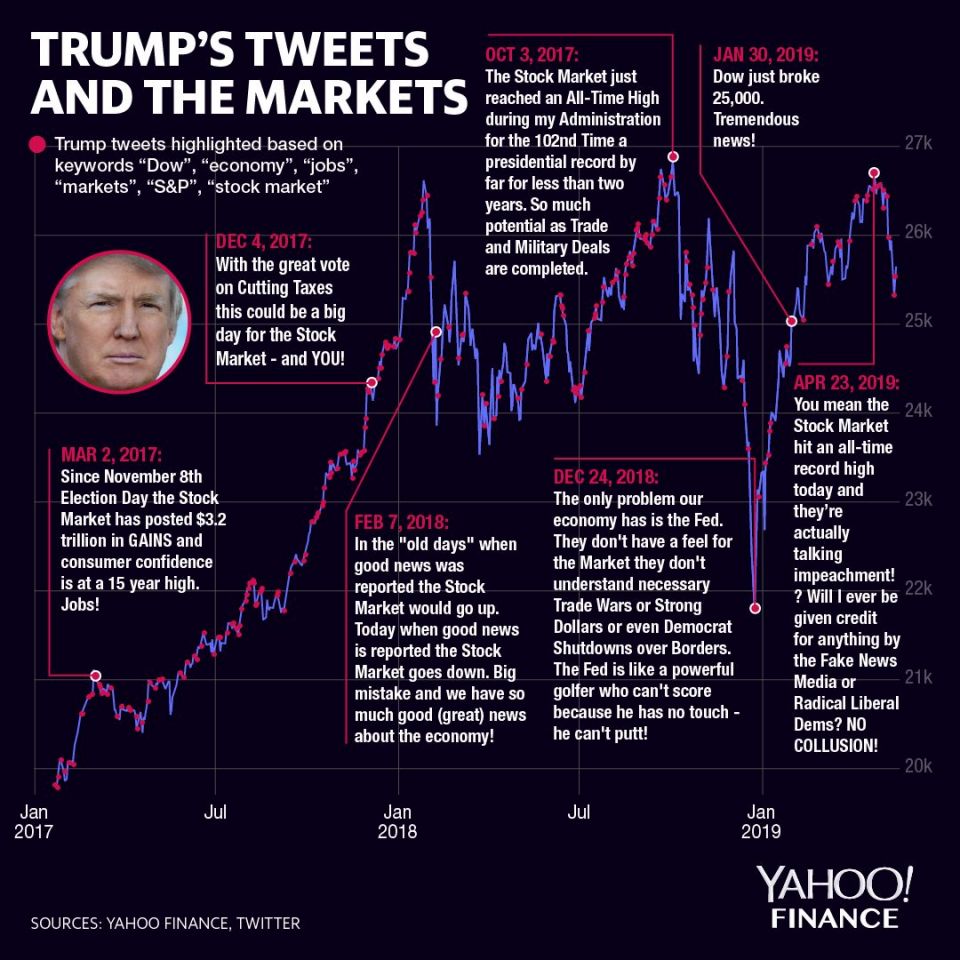 The Wall Street perma bulls were taught a tough new lesson in May: Don't expect stock market fanboy President Donald Trump to always save you with a bullish tweet when equity values lose a few percentage points.
These always sunny, brilliant Wall Street minds should keep what they learned from a challenging May for the markets close to their heart this summer. That's this is a president that looks dead-set on winning a trade war with China (and now Mexico and potentially, Australia…), and may be inclined to let stocks dip further despite his nature to try and boost stock prices with tweets and grand policy pronouncements.
"So many people seem to believe that President Trump will come-out and try to jawbone (or tweet) the market higher whenever it dips to ANY degree. His words and actions over the past week… during a market decline… throws a lot of doubt on that theory," says Miller Tabak strategist Matt Maley.
You have been warned.
Markets enter June on a down note
Trump didn't tweet once about the swooning stock market in May. Actually his last tweet on stocks came on April 23, when he shouted out the market nearing a record high.
Since then, Trump has ratcheted up the trade war rhetoric with China. Meanwhile, China has begun to return fire after seemingly plotting its plan of attack on the trade front for much of May.
Not content with fresh tariffs on China, the self described "tariff man" said he would levy a 5% tariff on all goods from Mexico on June 10 unless the country gets the migrant crisis under control. Tariff rates would gradually increase from there to 25% by October 1 barring a resolution.
"The market was blindsided by this — this is not good for the markets," Tom Essaye, president of Sevens Report Research, said on Yahoo Finance's The First Trade.
Indeed the market enters June with a clear bias to the downside.
The S&P 500 is coming off its worst month of the year, falling 6.5% in May. The Dow Jones Industrial Average has notched six straight weekly losses, the worst stretch since 2011. Global economic bellwethers Amazon and Apple — two U.S. companies caught in the middle of the trade war with China — fell 14.7% and 7%, respectively, last month.
The risk of backdrop for stocks sent investors piling into Treasuries — the 10-year yield declined to 2.15% in May from 2.5% at the start of the month.
Traders return to their desks on Monday looking at calls for a recession within a year from Morgan Stanley and another leg lower in the 10-year yield.
Yet, in spite of the negative news, Trump has stayed mum on stocks. It's pretty remarkable to see him not try to pump up the souring markets. Trump has not hidden his view that the stock market is one of the most important benchmarks on the success of his presidency. Further, the president feverishly dines on cable news' coverage of the markets, which have been anything but upbeat of late.
In fact, Renaissance Macro Research estimates that negative news headlines on trade scalped 6% from the S&P 500 alone in May. "The markets are clearly pricing in a more negative trade outcome with many investors penciling in a full blown trade war from a downside tail risk to the base-line outcome," writes Renaissance Macro's head economist Neil Dutta.

Dutta thinks if the trade headlines continue along their current path and the administration does levy tariffs on all Chinese imports, the S&P 500 could nosedive to 2,600 from 2,752 currently.
"We don't know if the President will be willing to play hard ball with China (or others) six-to-eight months from now (when the election campaign really gathers some steam), but he certainly seems to be willing to play it right now," says Maley. "Therefore, assuming that the stock (and other) markets cannot see a good-sized decline in the coming months could be quite painful. More importantly, it will make it much tougher to take advantage of such a decline if it does indeed take place."
Don't rely on the Fed to help
And don't expect the Federal Reserve to bail you out either, perma bulls.
"Listening to the "Fed speak" recently, it sure seems like they want to be supportive, but it also sounds like they're not going to step-in just because the stock market falls 7%-10% or if growth falls towards the low single digits," Maley contends.
Now, if the markets fall another 5% by mid-June, the return of the bullish Trump tweets on stocks (and less hawkish on trade) could easily return. But who knows, which makes this all incredibly fun… right?
Brian Sozzi is an editor-at-large and co-host of 'The First Trade' at Yahoo Finance. Follow Brian Sozzi him on Twitter @BrianSozzi