The GBP/USD trading pair kept losing again throughout the European session, and it slid to the lowest point it had been at since last December in the vicinity of the 1.3140 zones at the time of putting this piece together.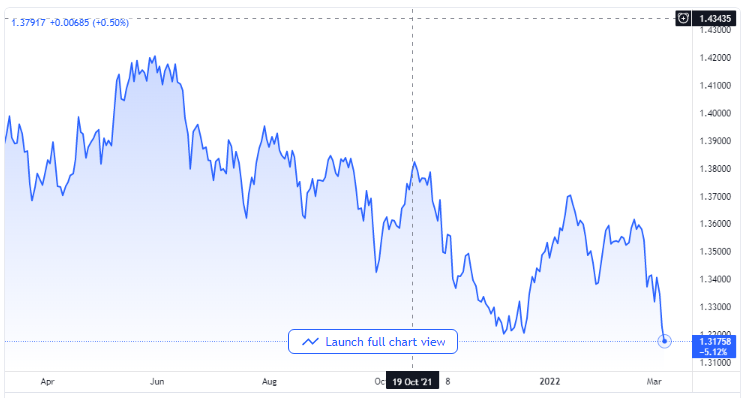 GBP/USD price chart. Source TradingView
The market leader of a pair was a contributor to last week's heavy losses recorded in the market, and it saw a few follow-through sales for the third day in a row on Monday in the middle of a strong extended rally of the US dollar.
Investors in the financial market kept putting aside perceived riskier assets as there were more escalations in the ongoing war between Russia and Ukraine. This served as a boost in demand for conservative safe-haven commodities and assets, and it pushed the US dollar to the highest point it has been since May of 2020.
Sanctions Might Raise Oil and Gas Prices 
In one of the most recent developments, the US Secretary of States Antony Blinken has said in a statement that the Joe Biden administration is having a discussion with some European governments over them banning the importation of Russian oil and natural gas. The move has consequently resulted in a sharp increase in crude oil prices globally, and it has instigated fears and speculations of a significant inflation shock in the global economy.
The aforementioned is considered as a corroborating factor that added to the already fragile risk aversion the market has been battling over a couple of weeks.
Apart from that, the largely upbeat monthly employment records for the US that were released on Friday and the increase in the Treasury bond yields underpinned the US dollar further. The downward trend went along with some near-term trading stops put around the 1.3200 round figure.
Therefore, the dip might further be connected with some technical trade-offs. A next break under the 2021 low points might as well have set the stage for more losses.
More Focus on Eastern Europe
There is no significant economic data to move the market that's scheduled to be released on Monday either in the United States or in the United Kingdom. That leaves the GBP/USD currency pair in the hands of the US dollar and its price dynamics. Consequently, it suggests that the financial market will have most of its focus on incoming news from around the Eastern European conflict as Russia and Ukraine head into the third stage of talks to achieve a ceasefire.