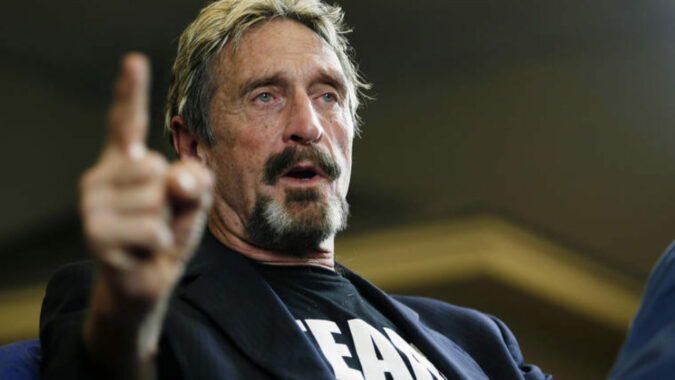 John McAfee, the creator and founder of worldwide acclaimed anti-virus software, McAfee, has been exposed to a court filing on the allegations of corruption, corrupt practices, and money laundering. The trial is to be taken by the US Department of Justice (DoJ). The allegations have been unearthed by the Federal Board of Investigation and South District Attorney of NY. McAfee's old associate, Jimmy Watson, too has been indicted and is going to face charges of non-compliance with securities laws.
A press release dated 5th March, 2021 has been issued by the office of DoJ regarding US business tycoon, John McAfee. Publication suggested that DoJ has registered a criminal case against McAfee and one of his associates, Jimmy Watson. DoJ said that the case has been instituted on the basis of evidence provided by the FBI and the South District Attorney of NY.
Multiple allegations and charges have been attributed towards McAfee and his associate. These allegations and charges included offenses of corruption, corrupt practices, money laundering, non-compliance of laws etc. But none of these charges were related to the anti-virus company, McAfee, but instead, they all related to crypto operations.
In particular, it has been alleged that the accused hatched a conspiracy aimed towards committing frauds with regard to securities and commodities. In addition, an allegation has been made that both the accused were found involved in money laundering through a fraudulent crypto scheme. DoJ stated that they were trying to defy US Authorities by establishing a business that was not allowed under US laws.
It seemed that before the official announcement of DoJ, the court of law had already services notices upon the accused. Apparently, Mrs. McAfee was seen contacting an attorney in Tennessee for contesting a legal case. Meanwhile, McAfee's team of lawyers from Spain are already onboard and would require assistance from someone in the US. In addition, she was looking for particularly those attorney's who are familiar with digital assets and issues relating thereto.
However, she hasn't recorded any press statement concerning the recent DoJ filing against her husband. In any case, after the press publication of DoJ, it is clear that she wanted team of lawyers to defend his husband in the legal battle.
Meanwhile, Audrey Strauss, who is the US Attorney, also unearthed how McAfee carried out fraudulent activities. She alleged that the evidence of McAfee's crimes are very much apparent on his official Twitter account. She stated that for quite some time McAfee was lying to the people regarding crypto and several crypto schemes. He alleged that the accused used his official Twitter account to spread false propaganda against several cryptocurrencies.
On the other hand DoJ claimed that the accused and his accomplices embezzled US$ 13 Million, which belonged to investors. This sparked a Twitter debate amongst account holders wherein some spoke against McAfee while some showed their support. But majority of them were of the view that McAfee is innocent and has been dragged into litigation to shut his mouth.