Geopolitical Crisis Hits Everything
The AUD/USD trading pair remained at its heavy initial position throughout the early European session on Thursday, and it was seen trading around 0.7175 zones, down by almost 0.80% at the time of putting this report together.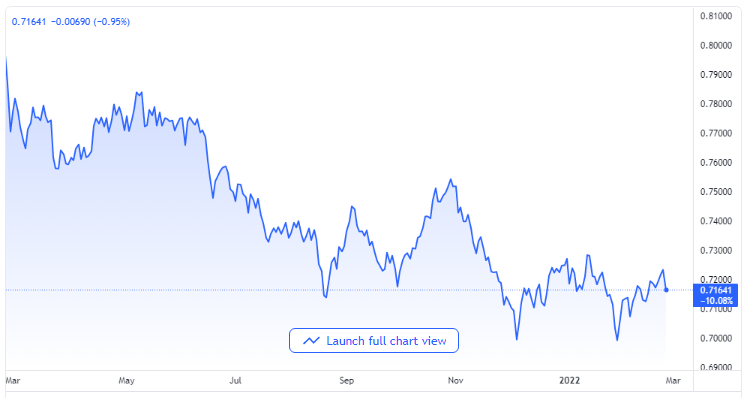 AUD/USD price chart. Source TradingView
There was an aggressive sell-off of the pair on Thursday, and it stretched the overnight pullback away from the 0.7285 zones, which is the highest level it has got since the 14th of January as a new wave of general risk-aversion trades are going on. 
The money market has taken a steep turn for its worse experience in recent times yet following the authorization by Russia's President, Vladimir Putin, of a military operation supposed to protect Russians living in the Donbas region of Ukraine. This consequently gave strong support to the safe-haven status of the US dollar and, in turn, drove funds away from the Australian dollar perceived to be riskier.
The Invasion Goes Live
NATO has officially confirmed that there is an invasion of Ukraine by Russia underway while several reports are feeding in that Russian troops are carrying out attacks on the Ukrainian border on the Belarusian side. Meanwhile, Ukrainian border guards are also confirming that there are attacks coming in from the border with Crimea.
The American President, Joe Biden, has described the attack on Ukraine as unprovoked and justified, and he announced plans to impose more severe sanctions against Russia. The statement went ahead to fuel concerns about deeper escalations of tension between Western countries and Russia, which is expected to keep weighing on market sentiments.
The continuous escalation of the crisis in Eastern Europe dragged the struggling AUD/USD pair farther back towards the lower side of its weekly trading average. The fresh trigger needed by bearish traders now will be a measure of follow-through trading. It will also get the stage ready for more short-term depreciating movement in the market.
The preliminary US GDP data expected to be published on Thursday might be able to provide just a little meaningful impetus since the market is focusing on new developments as they unfold out of the Russian and Ukrainian conflict.
On Wednesday, the higher selling rate that the US dollar experienced in the early hours of the European session robbed off properly on the AUD/USD pair as it gained a new monthly high in the area of the 0.7260 to 0.7265 zones.