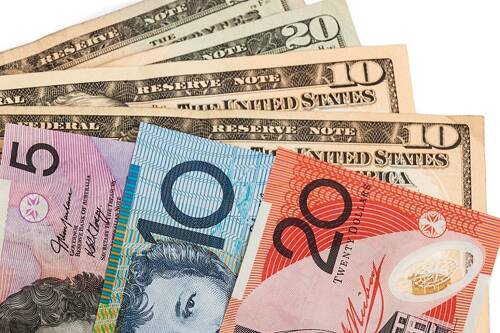 Supports Goes for the Pair Despite Turbulence
The AUD/USD currency pair has seen a level of new selling in the course of the early European session and it was observed actively trading close to the daily low points in the vicinity of the 0.7380 to 0.7375 zones.
The Australian dollar kept on its track to draw necessary support from the rising wagers in favor of early interest rate increases decisions from the Reserve Bank of Australia. This was further pushed ahead by the upbeat domestic job data that was published on Thursday. Aside from the foregone, the hopes of China delivering more as a complement to its earlier promised support of the economy and to further aid the stability of the money markets has done a lot to boost local currencies in the Australian continent, including the Australian dollar.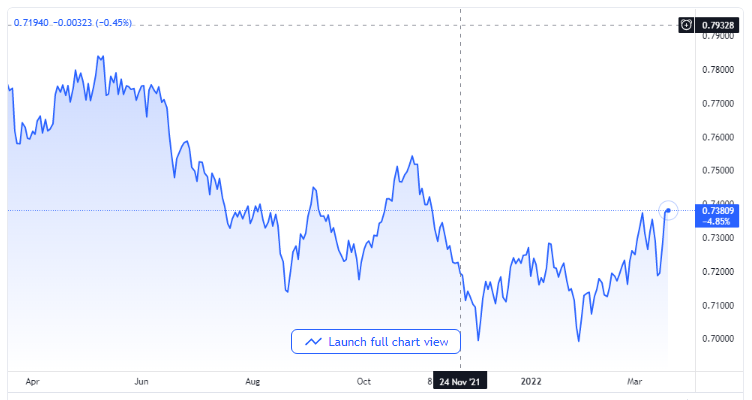 AUD/USD price chart. Source TradingView
A lot of complementary factors worked together to provide huge support to the AUD/USD currency pair to an almost two-week new high on Friday, although bullish traders tried so hard to get some acceptance or to build better on the momentum over the 0.7400 benchmarks. Since there is no progress yet in the peace negotiations between Russia and Ukraine, it has done a lot to tame the appetite of investors where risky assets are concerned. In a form of reverse psychology, this trend benefited the US dollar as a safe-haven asset and it helped to cap some gains for the pair.
Fed's Interest Rate Increase Boosts Dollar
The US dollar further got underpinned by the Federal Reserve's hawkish policy direction which indicates that the Federal Reserve could still increase interest rates at its remaining six meetings this year. Moreover, the Chair of the Federal Reserve, Jerome Powell, stated that the United States central bank might begin to shrink its almost $9 trillion balance sheet as early as its coming meeting in May. The balance sheet maintains its support of increased US Treasury bonds yield, which is also favorable to US dollar bulls.
The cautiousness instilled in traders might equally restrain them from placing strong bets on the AUD/USD currency pair as the meeting between Chinese President Xi Jin Ping and US Joe Biden is in view. This also makes it a matter of prudence to watch out for some follow-up purchases before staking a position for more gains and a prolonging of the week's rebound all the way from 0.6165 zones or from the monthly low points. 
Market players are currently looking ahead for the US economic dockets that feature the publication of already existing sales reports. The main focus, nevertheless, will be on new events around the ongoing war between Russia and Ukraine.