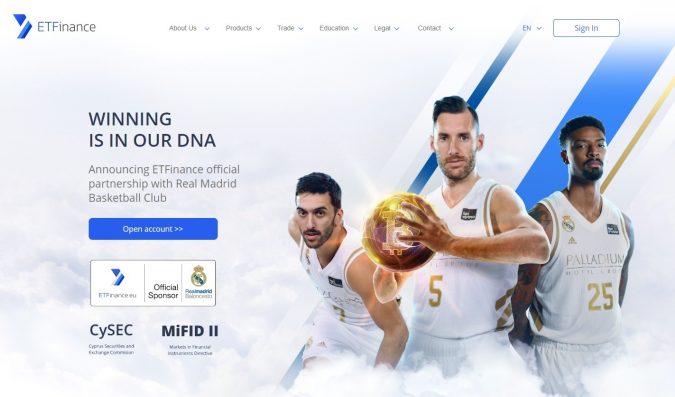 ETFinance Review
Ready to embark on your trading journey? In order to begin trading, you will first have to search for a broker that gives you access to your chosen markets and provides you with tools that are needed during the trading process. This doesn't seem that difficult, considering there are literally hundreds of online brokers. The only problem that you may encounter is sorting through them. After a while, all of them start to blur together because they are all making similar claims. How do you choose? You can make a choice by checking their regulation status, trading platform, customer support, banking and some other essential features.
In this regard, you will find that ETFinance fits right up your alley. Based in Cyprus, this online brokerage is owned and operated by Magnum FX (Cyprus) Ltd, which is a leading investment firm. They are regulated by the Cyprus Securities and Exchange Commission (CySEC), which gives them their regulated status. You can trade CFDs on a wide range of trading products, which include commodities, shares and stocks, Forex, indices and now cryptocurrencies as well. ETFinance is able to offer everything a trader may need, whether newbies or seasoned traders. How do they do so? Their prominent offerings are discussed below:
You can trade a wide range of products
First and foremost, ETFinance provides its customers the opportunity of trading a wide range of CFD products, as mentioned above. The commodities offered by the broker include agricultural assets, precious metals and oil whereas the currency pairs you can trade comprise of major, minor and exotic pairs. You can also trade CFDs of some popular indices like S&P 500, DOW30 and FTSE 100. The broker gives you access to the market round the clock and you can choose to open a retail or professional account with them.
When it comes to leverage offered by ETFinance, it varies for every account type and the CFD product being traded. Most of the indices and commodities come with a leverage of 1:10 for retail accounts and 1:50 for professional ones. The leverage for stocks and shares is between 1:5 and 1:10. As for currency pairs, the leverage goes as high as 1:200 while it stays at 1:1 for cryptocurrencies.
You can get low fees and tight spreads
ETFinance aims to provide its customers with value for money and doesn't believe in exploiting its clientele. Therefore, it doesn't impose any commission or trading fee on forex trading and there are very low commissions charged on commodities. When it comes to currency trading, the broker prefers to make it profits via the spreads. There are floating spreads available and they are mostly competitive, so you don't have to worry about high trading costs. The commission-free model is undoubtedly a benefit because it allows traders to trade with frequency without worrying about paying any transaction fee.
You can get perks and advantages via different accounts
Opening an account with ETFinance is quite straightforward and doesn't require you to jump through any loops. You can choose between different accounts, depending on what kind of trader you are or as per your preference. Everything from account opening, verifying it and funding it very easy and hassle-free. As mentioned above, the leverages between these account types will vary. The three account types start with a Silver account that's for beginner traders and comes with limited assets, good spreads and strong customer support. You can then move onto the Gold account, which is aimed at experienced traders. Spreads are reduced even further, leverage is increased, a dedicated account manager is provided, along with access to webinars and videos. The Platinum account option is for seasoned traders, which gives news alerts, a SWAP discount of 50%, free VPS and the highest leverage that ETFFinance has to offer.
You can open an Islamic account for all three versions, which is very convenient for Muslim traders. Other than that, ETFinance has also added the option of a demo account for its clients because it understands the need for practice, especially for those who are just getting started. Even experienced traders take advantage of the demo account because they want to get acclimated to the trading environment and platform the broker has to offer. You can use virtual currency for trading in a demo account and this allows traders to improve their strategies. Last, but not the least, you can also apply for a professional account at ETFinance, which is especially designed for professional traders. It comes with unique customer loyalty programs, very low and competitive spreads and high leverages.
You can get a range of reliable trading platforms
There are three different trading platforms offered by ETFinance because their aim is to cater to the needs of all kinds of traders. They have a WebTrader platform, which is a web-based solution that can be accessed through a browser. It is a cutting-edge and responsive trading platform that gives you a wonderful trading experience. A variety of trading tools and technical indicators have been incorporated in this platform and it boasts a highly intuitive yet simple interface. This is not where the offerings stop. ETFinance is also offering the desktop and mobile version of the popular MetaTrader 4 platform.
If you have done any research in trading or have any experience, then you are aware that this is one of the best platforms to use. It comes with a wide range of trading features and integrated tools, auto trading options and technical indicators. The mobile version comprises of a well-designed app for Android and iOS devices and it delivers an excellent trading experience.
You can use a simple and clean website
The website of the broker has an uncluttered design and despite its simplicity, it is quite modern. The minimalist design ensures that you don't have any navigation issues and allows people to have a solid user experience, focused on functionality and information. The website is very easy to explore and you can all information, whether it is about trading products, legal information, educational resources or trading platforms, is easily accessible. You can also register with ease as all information is provided upfront.
You are provided with reliable and responsive customer care
In the trading world, customer care can play a very vital role because when you are stuck, every minute can have an impact on your bottom line. If you don't get assistance right away, things could go really downhill for you. Trading is time-sensitive and knowing this, ETFinance has ensured that its customer support is available to clients when they need it. They have knowledgeable, responsive, reliable and friendly agents, who can be reached out Monday to Friday, 24 hours a day. As for the method, there are several options for you to explore when you want to get in touch with ETFinance's customer support. There is the option of email and call and you can also use the convenient option of live chat.
You will find secure and convenient options for payment
Once you have set up a trading account with ETFinance, you will need to add funds to the account in order to start trading. You obviously cannot trade without any money, but how do you add funds? This is a major concern that people have when signing up with brokers because not ever broker will offer convenient and easy-to-use options. Luckily, you will come across numerous convenient and secure options for making deposits and withdrawals with ETFinance. The broker allows you to use your debit and credit cards if you prefer. You can also go with a bank wire transfer, if that appeals to you. Other than that, the broker offers online payment methods as well.
As far as processing deposits and withdrawals are concerned, deposits are usually instant no matter what payment method you opt for. You can make a withdrawal by submitting a request by visiting the Client Area on the broker's website. As long as your account is active, you will not be charged for making a withdrawal, but a withdrawal fee may be applicable if there is insignificant trading activity on your ETFinance's account before the withdrawal.
You will come across a number of additional offerings
There are a lot of additional features that ETFinance has incorporated on its platform because it wants to ensure its clients can have a flawless trading experience. This is something you aren't likely to find at any other broker, which makes ETFinance a very good choice. You can access VIP educational resources when you make an account with this broker. The education center on the broker's website has an extensive and detailed Video on Demand (VOD) library, which comprises of a variety of free training videos both new and experienced traders alike.
The videos that you will find in the library cover a number of basic topics and there are also detailed ones on common trading strategies and technical indicators. You will find videos on everything from Fibonacci trading strategies, understanding candlesticks for technical analysis tools and chart formation patterns. It is possible for traders to study these videos as an online course. Individual topics can simply be divided into two to three lessons, which helps them in covering the difficult aspects of complicated tools, techniques or strategies.
You can benefit from its regulatory status
As mentioned above, the company that owns and operates ETFinance is authorized and licensed by the Cyprus Securities and Exchange Commission (CySEC), which means the broker is also regulated by this entity. In addition, it is also governed by the European Securities and Markets Authority (ESMA). Under these regulations, the broker has to offer certain types of protection to its account holders like the customer compensation protection that comes through the Investor Compensation Fund (ICF). This protection is available to all account holders with a retail account on the platform.
Apart from that, ETFinance also takes the matter of keeping its customers' assets safe very seriously due to which it has maintained segregated accounts for storing customer funds. This means that in case the broker goes bankrupt, customer funds will remain intact because they are not mixed with the broker's own accounts. In order to provide additional protection to clients, ETFinance has implemented some of the best security practices for protecting the data that's entrusted with them. You obviously have to share personal information when signing up with a broker and this puts it at risk.
Understanding this, ETFinance has made use of rigorous firewalls for preventing outsiders from cracking into the system. Plus, they have also used Secure Sockets Layer (SSL) encryption to ensure all data that enters and leaves a website remains protected. Another measure that's implemented as part of the regulatory process is the KYC (Know Your Customer) policy. This requires every client to submit proof of ID, which is in the form of a government issued ID card, passport or driver's license. They also have to give proof of address like bank statement, utility bills or other documents that show their address. Only then is their account verified. This is done for the protection of clients because it ensures that no criminals can sign up on the platform with a fake ID.
The Verdict
After taking a look at all its offerings, there is absolutely no doubt that ETFinance is providing first-class trading infrastructure to all traders, whether they are less experienced and have limited funds or they are advanced traders with a big capital. The broker has ensured that a large number of CFDs are available, which includes everything from stocks to cryptocurrencies to forex. They also have insurance in the form of the compensation scheme, which allows them to trade with peace of mind. There is multilingual support available as well as negative balance protection, which goes a long way in creating the right trading environment. The high level of security, the educational resources and the different account types complete a very promising package in the form of ETFinance.
Service Review Summary
Reviewer
Review Date
Reviewed Service
Author Rating