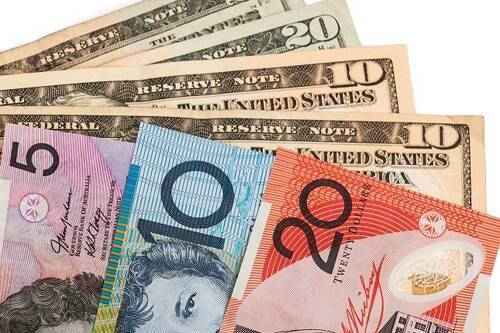 The AUD/USD trading pair gained upwards for the third day in a row during one week and is currently trying to break above the ten-month-old downward trajectory it had been on. So far, it is leaving the 200 daily moving average at 0.7324 under the spot's price as early as Wall Street opened for business.
AUD/USD price chart. Source TradingView
The AUD/USD pair is showing some degree of resilience at its 0.7333 level of risk-sensitive fiat currencies in spite of the fact that the US and European stocks markets are showing a mixed mood.
European stock indexes are printing losses, whereas the US stock indexes opened on Thursday on the right footing. In the forex space, rusk-sensitive currency pairs move forward as opposed to safe-haven currencies. The US dollar went ahead with more gains as the dollar index went up by a solid 0.27% to bring it to 97.620, while there was also an increase in the US Treasury bond yields.
Geopolitics 
On the geopolitical crisis rocking Eastern Europe, Russia and Ukraine resumed their talks in Belarus according to Russia's state media, Tass, on Thursday. Furthermore, the Russian Deputy Foreign Minister, Sergei Ryabkov, said that the ongoing talks with Ukraine holding in Belarus might actually yield results. Sergei Lavrov, the Russian Foreign Minister, told the press that President Vladimir Putin and French President Emmanuel Macron had a long discussion over the phone.
A top official in the French cabinet gave a report to the media that President Putin told President Macron that should diplomacy fail in achieving the disarmament and neutralization of Ukraine, then he would have no choice but to extend the Russian special military operation in the country.
The US and Australian Economic Data
In the course of the Asian session, a number of data were featured in the economic docket for Australia for the month of January. These were led by the Australian building approvals that gave out contracts more than was estimated. The trade balance, however, had a surplus print of 12.9 B vs 9.1 B early estimated at the same time. Whereas, the country's export increased by 8%, far beyond 1% that ticked in last December, while imports came in at 2%.
Meanwhile, in the United States, featuring first in the economic docket was the Initial Jobless claim for the week that ended on the 26th of February, and it came to 215,000, below the estimated 225,000. The American Markit Service Purchasing Managers' Index for February was at 56.5, lower by a tenth of initial estimations. Later in the session, the ISM Index for February dropped to 56.5, a worse state than estimated, whereas, Durable Goods Order and Factory Orders met up with their respective expectations.