A Better Rally to Regain
The USD/JPY currency pair is seeing a lumbering rally away from the low points it was on the 4th of March at 114.65, and it has managed to recover its three-week streak resistance at about 115.90. The pair has stretched the limits of its rally following the poor performance in the delivery of Japan's Gross Domestic Product figures.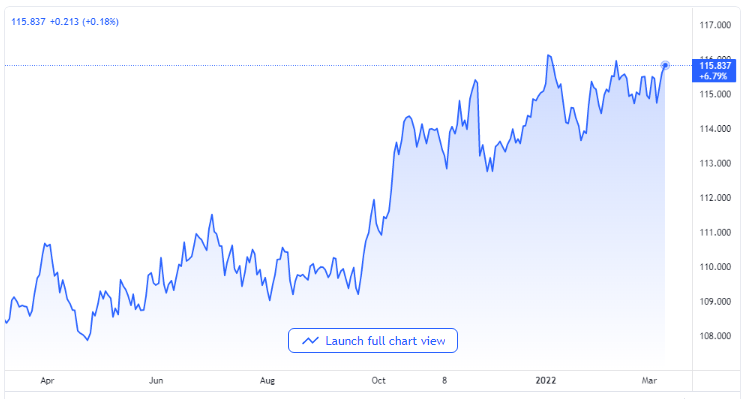 USD/JPY price chart. Source TradingView
The quarterly Gross Domestic Product in Japan released by the Cabinet Office was reported at 1.1%, which is lower than unofficial speculations, and the initial figure was at 1.4% and 1.3%, respectively. The annual Gross Domestic Product figures dropped heavily to 4.6% from the earlier market speculation of 5.6% and the initial figure at 5.4%. These figures have come to underpin the US dollar against the yen.
A Slight Opening to Ceasefire 
With regards to geopolitics, the President of Ukraine, Volodymyr Zelensky, has given signals of a truce as he confirmed that Ukraine is withdrawing its application to become a member of the North Atlantic Treaty Organization (NATO). Nevertheless, the country's intention to join the European Union still remains intact. Analysts say the latter may still stop Russia from agreeing to a ceasefire with Ukraine.
Although the news of possible calm has had an impact on the financial market as it brought back some optimism in stocks while some risk-driven currencies are still performing below per against the safe-haven US dollar.
That said, the US dollar index is still oscillating in a narrow range of 98.99 to 99.14 during the Asian session. The weak performance of the US dollar index has been anticipated due to uncertainties among market traders and investors over the coming US Consumer Price Index figures that are scheduled to come in next Thursday. 
In the case of market consensus, the US Consumer Price Index will possibly print at 7.9% against the initial figure at 7.8%. While investors fix attention to the American inflation numbers, they will equally look out for the American Initial Jobless Claims and the Japanese Overall Household Spending records that are scheduled to be published on Thursday. 
The USD/JPY pair was able to attract a considerable level of buying on the first day of the week, a good start to set the tone for the rest of the week. It was able to quickly regain some of the losses it incurred on the final selling day of the previous week to more than one week's low while there was an extended bullish run of the dollar.