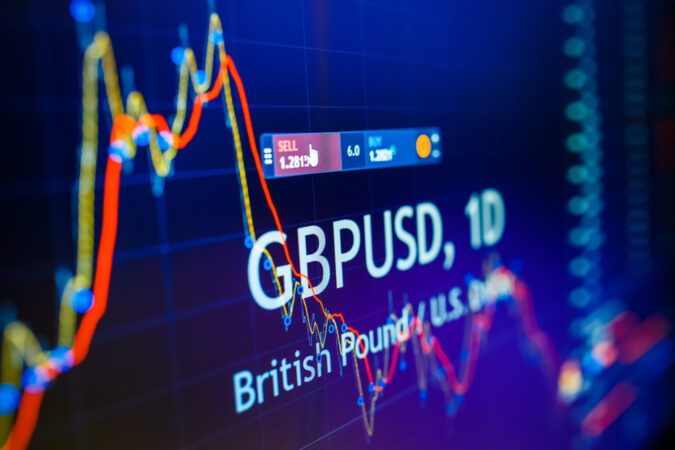 On Thursday, the British pound was able to hold onto most of its gains made in the previous session against the US dollar.
This was after inflation data showed that the Bank of England (BoE) may have to be more aggressive in terms of delivering interest rate hikes.
The currency did drop slightly against a stronger euro. There was a 0.11% drop in sterling against the US dollar to $1.2335, after it had increased to $1.2434 a day earlier, which was a high of one month.
It ended the day up by 0.5% against the greenback.
The data
On Wednesday, data showed that there was a cooldown in the headline consumer inflation in the UK, but services prices climbed to their highest level since March 1992.
A lot of the Bank of England (BoE) officials believe that this signals that inflation is more persistent and a reflection of the secondary impact of higher wage and energy costs.
Moreover, the GDP data showed that the British economy appeared to be holding up better than expected.
This increased pressure on the British central bank to continue raising interest rates. Market analysts said that there would be more BoE hikes due to inflation and market data.
Currency movements
Analysts forecast a rate hike of 50 basis points in the interest rate in the February meeting of the BoE and an additional 25 basis points increase in its March meeting.
In recent months, most currency movements have been driven by the different interest rates in various markets.
The euro has also been doing well against most major currencies and was able to recover a bit more against sterling than the US dollar. It rose 0.35% against the pound to reach 87.78 pence.
On Wednesday, the euro had declined to a low of one month at 87.35 pence, as inflation data had given the pound a boost.
Other details
On Thursday, there were no such big data releases scheduled to happen in Britain, but the European Central Bank (ECB) was scheduled for releasing the minutes of its meeting in December 2022.
These could have an impact on the euro. Market analysts said that the euro could experience some more recovery against the British pound this week.
If that were to happen, then the currency pair could reach 0.8800. There was also a 0.3% drop in the British pound against the Japanese yen on the day to 158.64.
This was after the Asian currency was able to record a rebound from its volatility a day earlier that had been induced by the Bank of Japan (BOJ).
The BOJ had its meeting on Wednesday in which it decided to stick to its ultra-easy monetary policy, even though inflation in Japan continues to climb to record numbers.
On Wednesday, the pound had managed to reach a high of three weeks against the Japanese currency at a value of 161.51 yen.